First Visit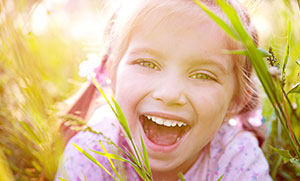 Our office, as well as the The American Academy of Pediatrics (AAP), the American Dental Association (ADA), and the American Academy of Pediatric Dentistry (AAPD) all recommend establishing a "Dental Home" for your child by one year of age. Children who have a dental home are more likely to receive appropriate preventive and routine oral health care.
The Dental Home is intended to provide a place
other than the Emergency Room for parents.
You can make the first visit to the dentist enjoyable and positive. Here are a few suggestions to prepare your youngster for the initial visit:
Inform your child of the appointment. Tell your child that the dentist wants to get to know him/her; present this visit as an exciting experience for yourself and for your child. One way to convey good feelings to your child about dental visits is to remind them that going to the dentist is a sign that they are growing up.
Tell your child that we will count, brush, and take pictures of his/her teeth. By explaining the exam and the cleaning in these terms, your child will better understand the situation.
Be incredibly positive about this experience. Avoid negative words such as "hurt, drill, pull, and shot". Please do not tell your child that the "dentist will not hurt you" as this may never have entered his/her mind. Instead, you may wish to assure your child that the dentist and her helpers will be gentle and friendly. Talk about dentistry with a positive attitude. This initial examination involves nothing uncomfortable and should be perceived by the child as non-threatening.
Discuss dentistry honestly with your child when he/she asks you questions. Children listen to your tone of voice and can detect your feelings very easily. If your child has questions that are difficult for you to answer, please refer him/her to our pediatric dental team for the proper answer and discussion.
Bring only the child that is to be seen for the dental visit so that both the parent and dental staff can concentrate on that child's needs.
After the appointment, compliment your child's good behavior at the dentist's office in the presence of other members of the family.
We strive to make each and every visit to our office a fun one!
Books for the First Visit
"The Tooth Book" by Dr. Suess
"Barney Goes to the Dentist" by Linda Cress Dowdy
"Show me your Smile: A Visit to the Dentist (Dora the Explorer)" by Christine Ricci
"Just Going to the Dentist" by Mercer Mayer